I waffled over posting this, with thoughts like "who would care?" and "couldn't this just be a private journal?" — but then I reframed my mindset to I'd care, and why can't this lil corner of the internet of mine be something of a journal? So hell yeah, here we go.
After nearly ten years of dating, I finally asked Jana to marry me, and she said yes!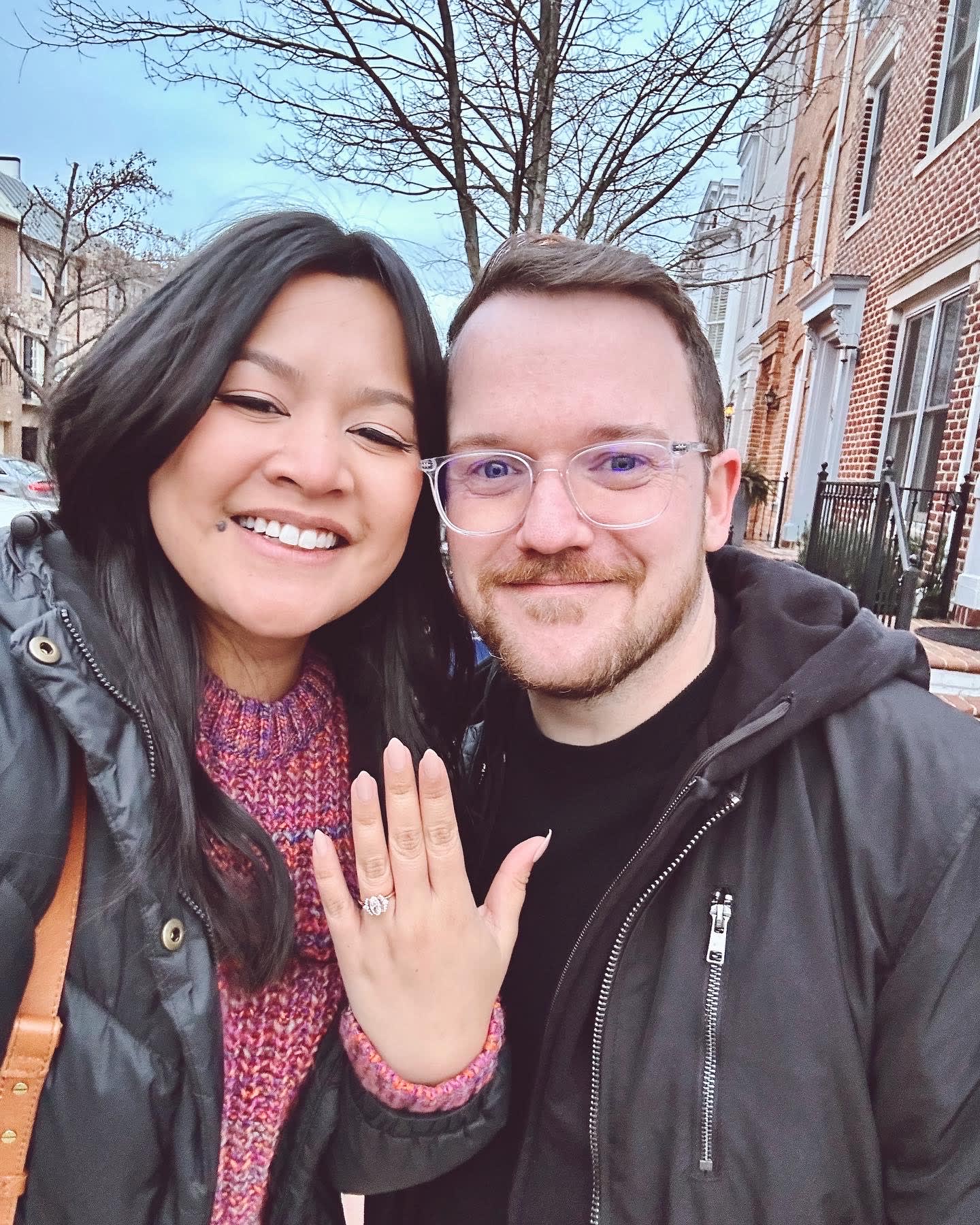 I'm over the moon, of course. As the actual proposal got closer, it just felt more like the right thing to do. I wanted to take a bit to dive into the details, too, since plenty of folks have been asking me for them!
Let's start at the beginning: how we met.
Years ago, in 2013, I ran a little Tumblr blog where I regularly posted design-focused content — usually in the form of Dribble likes or random images I found on the net. At the time, I had a few anonymous folks pop into my Tumblr DMs, but one, in particular, went beyond just the "hey, cool stuff" or awkward attempts at hitting on me.

Out of the blue, this anonymous person was asking me questions and getting to know me. I called them "Mel" because I was convinced it was some dude trolling me. I told "Mel" this, and eventually, we started exchanging emails. Then finally, we swapped photos. Let me tell you, and I was even more convinced that it was a dude catfishing me, given how just... damn pretty she was 😍.

A little while later, we did phone calls, leading to video calls, leading to having earbuds in our ears on a phone call while we did whatever we had to do that day.  

She was from Virginia, finishing school and getting her degree in design, and she was wonderful.

From the start, her wittiness and humor just stuck with me; I felt at ease. We finally met in person in March of 2014, and even though I was nervous as hell, it still just all felt right.

We went to New York together for a school project of hers and toured around DC and Old Town, Virginia; every minute was a blast.

Time went on, and a few more visits happened — her coming to Colorado and me heading out there again — she graduated college and moved out here with me in 2015.
Now, I'm not going to lie and say everything was perfect. I was struggling with money, insecurity, and jealousy. She was having a hard time finding a job. There was tension, and there were fights, but we stuck with it.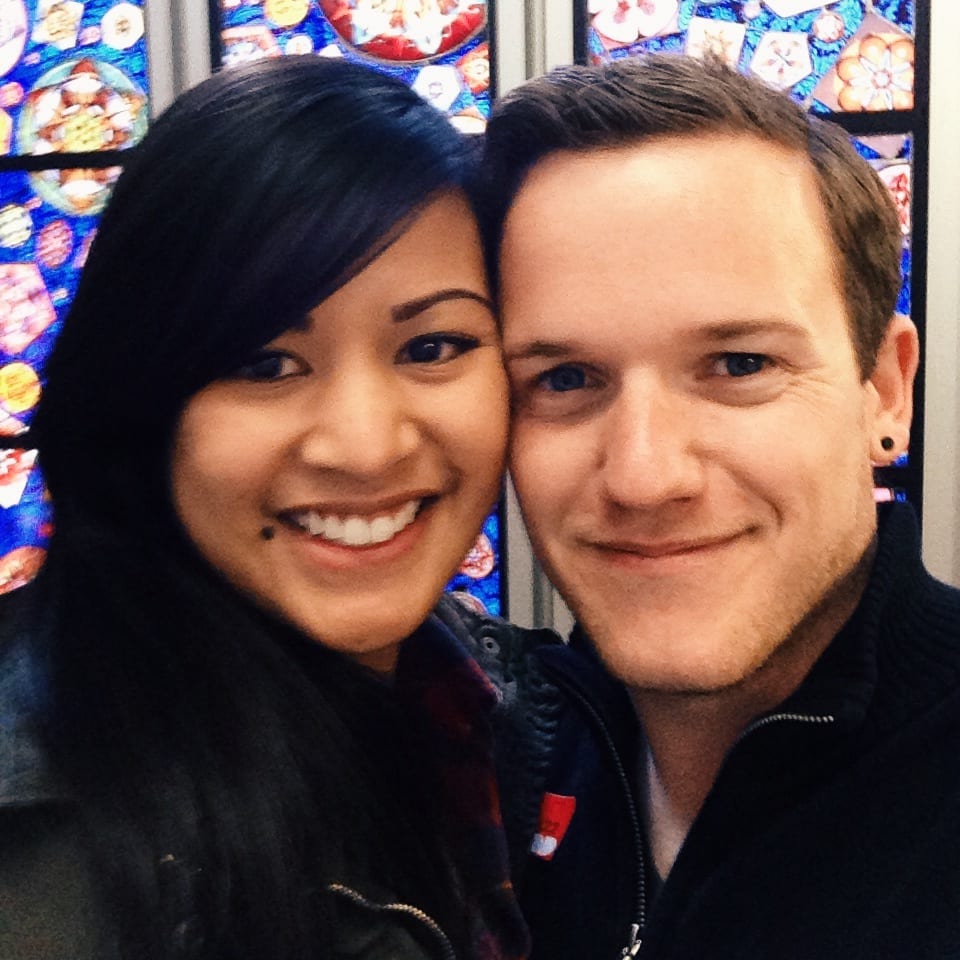 The discussions.
We've casually floated marriage to each other over the years. As a "hey, do you want to do this?" thing — and we've both generally been on board. I say "generally" because there were details we still needed to work out. The biggest was money: since I was already struggling financially, I couldn't imagine taking on any wedding or the financial commitments that came with it. I didn't even know how you'd buy a ring without taking out a loan or saving for years. We finally came to terms with our situation and settled into an agreeable place: we'll get married when we can do so comfortably and with as little stress as possible, but our love for one another doesn't need marriage to validate it.  
The ring shopping.
Time breezed on still, and then finally, things started aligning. Work was going better for both of us. We were stashing more money away and settling into each other's rhythms. Communication was getting easier and easier; in November, we said to hell with it, let's go ring shopping.
We set a budget; Jana found a local jeweler (Sarah O. Jewlery, they're fantastic!) and scheduled an appointment. There was no way I was about to invest that much in something that she might hate, and she was more than happy to come with!
After almost an hour of a great appointment, she had one picked out, and boy was it beautiful. It was one of a kind and already fit her perfectly. So we picked it up the next day. Seeing that ring on her finger was obvious: she deserved to have something that beautiful with her all the time.  

I told her the next part, the proposal, would be a surprise.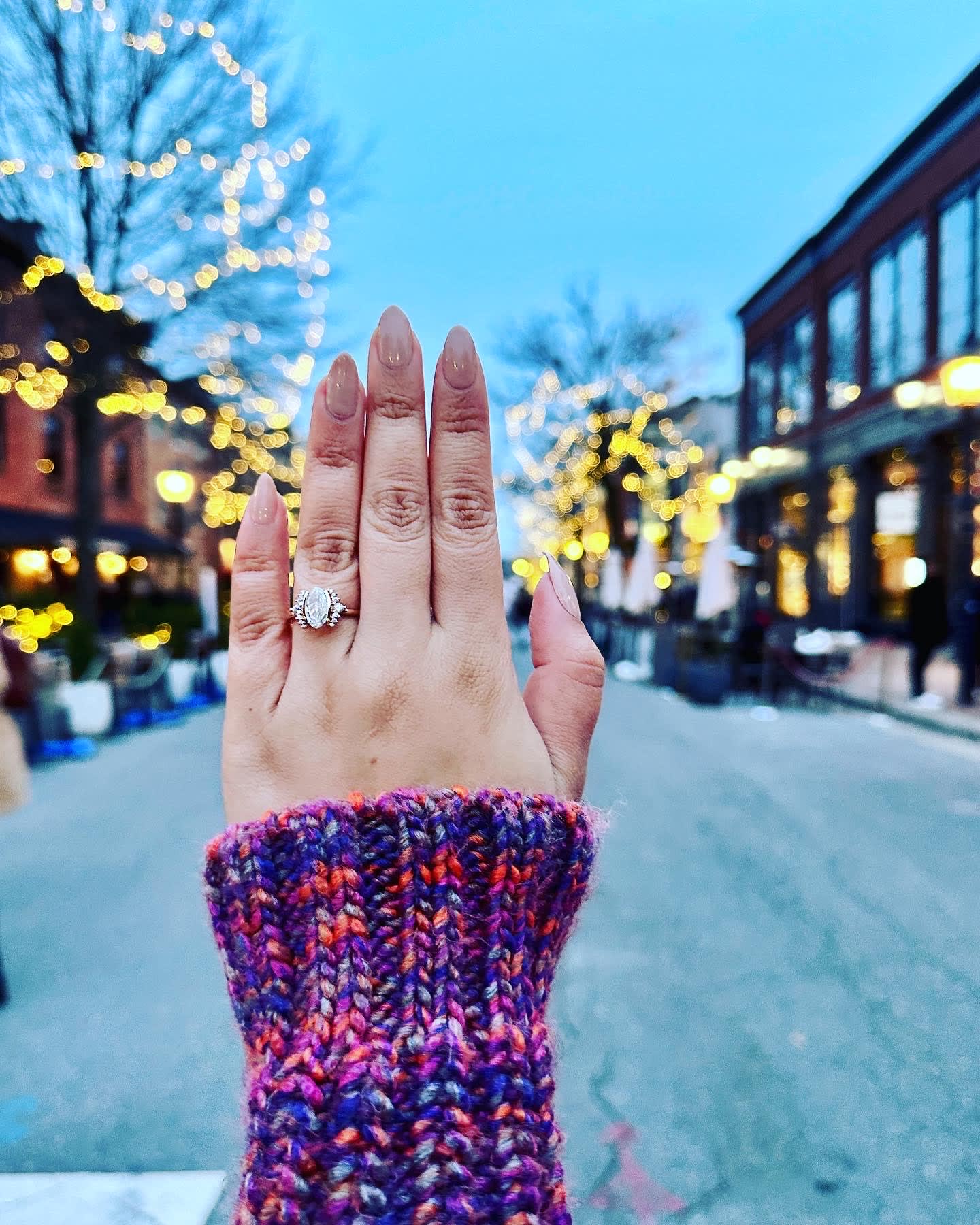 The proposal.
We were heading to Virginia for the holidays with her parents. I hadn't been there since she graduated in 2015, and I realized this was my chance and the right place to do it. The first day we arrived, I took some time with her folks to talk about it and get their permission — to which they promptly replied: "of course, we love you!"
With the significant stress of buying the ring, traveling with it, and talking to her parents out of the way, I had to figure out when and where exactly. There were two places dear to us both in the area: our first date in Old Town and these rocking chairs at the airport — we spent quite a few teary goodbyes there, wondering if we'd see each other again — I decided Old Town would be the best option.

The whole family was out for dinner celebrating her dad's birthday. It was an early one, so by the time we were done with dinner, the sun had just set. I told her sister I planned on making it happen sometime that day and that I could use her help. After dinner, we walked around, taking in Old Town, when her mom popped into a store. Her sister said, "Dad, we should pop in, too!" and that's when I saw my opening.
I took Jana by the arm and said, "come on, follow me" — after a brief bit of a shock on her face, it settled in, and we both started walking towards one specific spot with a few nervous giggles and exchanges of "oh you know what's happening, huh?" After a very brief walk, we got there.

The place where we first kissed.

I awkwardly said, "do you remember this?" and reiterated the story of our kiss and what I remembered from that time. The lights, some folks were having a party nearby. Sheepishly I followed that up with, "should I, uh, get on one knee?" (we're very good at this being adults thing) — she kinda chuckled and said, "sure, I don't know!" so I dropped down, open the ring box — it was upside down! — and asked the question: "Will you marry me?". To which she, of course, said yes. Hugs, misty eyes, and kisses were shared, and we snapped a few pics for good measure.

What's next?
We're already off to the races planning our actual wedding. We're thinking maybe November 2023 or March of 2024 and doing a pretty small-scale thing of just our parents — they call that a micro-elopement now; it's hard to keep up with wedding lingo. We'll probably have a party after, too, back in Colorado with all of our friends.

If you made it this far, you're probably one of the folks in my life that have been around Jana and me enough to want to read this whole story, and for that, I love you and hope to see you at the party <3